Fake president pedophile satanist BIDEN and his demon filled ADMINISTRATION ISSUES harmful ORDER FOR POLICE TO BEGIN, for no scientific reason ARRESTING PEOPLE CAUGHT WITHOUT A MASK ON THEIR FACES who are exercising their human right to oxygen AND PROSECUTE THEM CRIMINALLY | There are exemptions: which exempt us all.
Truth11.com Editor Note:
Dylan Eleven
I have not put a mask on yet. Not once. I simply explain the truth that I have an exemption for medical reasons.
No one has challenged this. My medical reason is I am human and I need the correct amount of oxygen to function properly and to be healthy.
You can choose not wear a mask due to a disability that would medically harm you if you did wear a mask.
You can also be exempt from wearing a mask if it creates a risk to workplace health safety or job duty.
Everyone is affected by these masks and can claim exemption for the above two reasons.
Firstly a disability: The disability is; if you have lack of oxygen you can have a stroke or be hurt in other ways such as develop lung cancer due to the masks. We all have this disability, -or- the lack of ability to function and be healthy due to reduced oxygen and other harmful effects from wearing a mask.  So we are all exempt, medically.  Take it off! 
Secondly the work exemption which states: You can also be exempt from wearing a mask if it creates a risk to workplace health safety or job duty.
Lack of oxygen negatively affects you while working causing a safety issue for you.  Oxygen levels while wearing a mask are below workplace safety standards. This law already exists to protect workers. So everyone is exempt while working.
The masks Must go. It is the first step to regaining our freedom. Everyone take off your mask and proudly state you are exempt for medical reasons, or workplace safety reasons.
Medically you cannot give up your oxygen. Nor can you medically accept other health consequences of wearing a mask.
In the Spanish flu, which followed a vaccination campaign, (not the other way around), the un-masked buried the masked dead.
________________
BIDEN ADMINISTRATION ISSUES ORDER FOR POLICE TO BEGIN ARRESTING PEOPLE CAUGHT WITHOUT A MASK ON THEIR FACES AND PROSECUTE THEM CRIMINALLY
Prepare For Change / Edward Morgan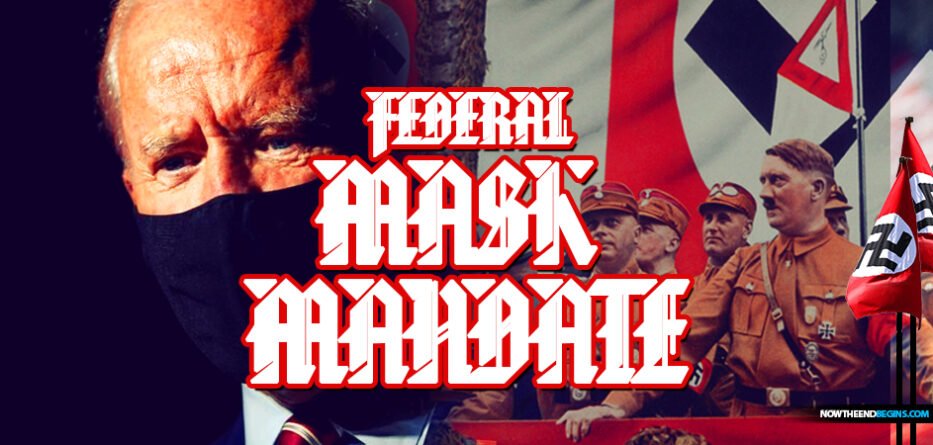 by Geoffrey Grider,
Americans are now required to wear masks in planes, trains, buses, subways, taxis, car services, boats, and transportation hubs, per a new order from the Centers for Disease Control and Prevention (CDC) that took effect today.
Well, we told you this would happen if America was to put Joe Biden into power, this is exactly what we foresaw taking place. Just imagine a virus so deadly that 99% of everyone infected recovers from it, but you have to wear a mask even while driving alone in your vehicle with the windows up. The truly sad part is watching the American people just lying down and taking this tyranny. Sometimes, when you find yourself on a slippery slope, you can slip so far that there is no coming back from it. That's where we find ourselves right now.
"The object of terrorism is terrorism. The object of oppression is oppression. The object of torture is torture. The object of murder is murder. The object of power is power. Now do you begin to understand me?"' George Orwell, 1984
Students of history will rightly recognize what we are seeing now is fascism, albeit in its early stages, but fascism none the less. There is no actual science being used here, just the stupefying dictates of man being asserted on his fellow man with the object of driving the same into a weaponized state of submission.
Federal Mask Cops To Start Targeting Travelers Today
FROM REASON: Masks must be of a style approved by the federal government and must fit properly. Failure to comply will result in being prohibited from traveling, booted from the transit in question, and potential criminal penalties. The order will be enforced by Transportation Security Administration (TSA) agents and "other federal authorities," as well as state and local officials. "To the extent permitted by law…federal agencies are required to implement additional measures enforcing the provisions of this Order," the CDC says.
"CDC RESERVES THE RIGHT TO ENFORCE THROUGH CRIMINAL PENALTIES," THE AGENCY ADDS, THOUGH IT CLAIMS NOT TO INTEND "TO RELY PRIMARILY ON THESE CRIMINAL PENALTIES." THE FEDS MAY ALSO IMPLEMENT "ADDITIONAL CIVIL MEASURES ENFORCING THE PROVISIONS" OF THE ORDER (WHICH "IS NOT A RULE WITHIN THE MEANING OF THE ADMINISTRATIVE PROCEDURE ACT," THE CDC NOTES, "BUT RATHER IS AN EMERGENCY ACTION").
Creating a vast network of law enforcement officials empowered to enforce these mask rules will of course provide a handy new excuse for monitoring and surveilling citizens. Meanwhile, deputizing federal agents, state authorities, and local cops to enforce transit mask rules will open up all sorts of new police harassment and abuse opportunities.
Only targeting people without masks might not seem to leave a lot of room for discriminatory enforcement. But the CDC order doesn't just stop at people not wearing masks. In fact, it leaves a lot up to officials' discretion. For instance, travelers can take masks off while eating, drinking, or taking medication—leaving room for a lot of individual judgments in how long it's reasonable or appropriate to remove a mask for during these activities, as well as misinterpretation in whether someone is allowed to have a mask on or off at a given moment.
The CDC order also says it's not enough to simply wear a mask—it has to be a certain kind of mask. It can't be a bandana, scarf, ski mask, or balaclava. It can't fit too loosely or too tightly. It can't contain an exhalation valve or be made from knitted fabrics, leather, plastic, or vinyl. Again, that leaves a lot of room for authorities to choose who they target for enforcement.
"THE CDC RULE CAME JUST OVER A WEEK AFTER BIDEN'S EXECUTIVE ORDER, WHICH ALREADY MANDATED MASKS ON CERTAIN MODES OF PUBLIC TRANSPORTATION INCLUDING PLANES AND TRAINS, AND IT MANDATED MASKS ON FEDERAL PROPERTY," NOTES THE ATLANTA JOURNAL-CONSTITUTION.
The new CDC rules apply to any passengers, operators, or staff of any "aircraft, train, road vehicle, vessel…or other means of transport," including "rideshares meaning arrangements where passengers travel in a privately owned road vehicle driven by its owner in connection with a fee or service." The order also applies "on the premises of a transportation hub," defined as "any airport, bus terminal, marina, seaport or other port, subway station, terminal (including any fixed facility at which passengers are picked-up or discharged), train station, U.S. port of entry, or any other location that provides transportation subject to the jurisdiction of the United States."
Kids under two years old, people with disabilities that disallow them from wearing masks, and people for whom "wearing a mask would create a risk to workplace health, safety, or job duty" are exempted.
Federal Mask Mandate Begins
Source: https://www.nowtheendbegins.com
Original Article: https://prepareforchange.net/2021/02/08/biden-administration-issues-order-for-police-to-begin-arresting-people-caught-without-a-mask-on-their-faces-and-prosecute-them-criminally/?utm_source=rss&utm_medium=rss&utm_campaign=biden-administration-issues-order-for-police-to-begin-arresting-people-caught-without-a-mask-on-their-faces-and-prosecute-them-criminally
---
About this entry
You're currently reading "Fake president pedophile satanist BIDEN and his demon filled ADMINISTRATION ISSUES harmful ORDER FOR POLICE TO BEGIN, for no scientific reason ARRESTING PEOPLE CAUGHT WITHOUT A MASK ON THEIR FACES who are exercising their human right to oxygen AND PROSECUTE THEM CRIMINALLY | There are exemptions: which exempt us all.," an entry on Truth11.com
Published:

February 9, 2021 / 4:32 pm
Category:
Tags: