9/11: Twenty years of lies
9/11: Twenty years of lies
David Icke / Roger Mallett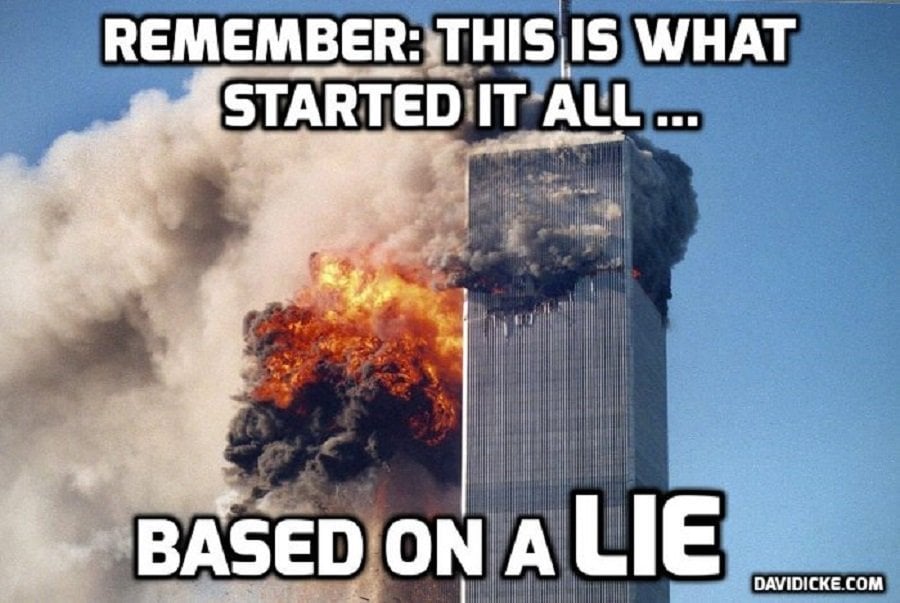 TWO decades after 9/11, which was eleven years to the day after President George H W Bush delivered his famous 'new world order' speech, the historical significance of both events is now much clearer.
Two decades of permanent 'most favoured nation' trading status for China has produced the largest transfer of wealth, technology, manufacturing capacity and markets in human history, and destroyed the American industrial economy.
Two decades of the 'War on Terror' and the cancerous growth of a global surveillance state has destroyed Western liberty and obliterated civil rights.
Two decades of the corporate internet, social media and smartphones has lobotomised Western culture, destroyed key Western institutions, engineered a rolling mass psychosis and transferred regional political and economic power to Silicon Valley and Wall Street.
Two decades of the occupation of Afghanistan, then Iraq, drone war and collateral murder in Pakistan, and attacks on Libya, Syria and Yemen has destroyed the authority of the United States and its allies to the point where the senile winner of a crooked election mumbling prepared talking points inside a fortified Capitol is the nominal leader of what was once called the free world.
Before 9/11 it was still almost possible to believe America's idealised story of itself. Today the USA can be compared to the most corrupt regimes in history, and may even be the most corrupt, given the scale of corruption now possible.
Gangster states, which are merely criminal rather than sadistic and depraved, now look at the United States with justified disgust.
But America is no longer really America, just as Britain is no longer really Britain. Both are no more than holding companies of a global commercial conglomerate hostile to national power as a barrier to global domination, just as developing national power in an earlier era was determined to weaken regional power.
All this was accelerated after 9/11 through the imposition of a war whose structural outcome, if not objective, was the demolition of the democratic West, and it is now being accelerated yet further via the pandemic.
Once again shock propaganda has been used to declare a state of emergency and enable the seizure of power from the people to State and transnational organs. Here, too, a highly profitable permanent war has been declared against an invisible enemy with no definable conditions of victory, or even coherently stated aims.
Again, the winners are the same global political, economic and security elites who consolidated after 9/11 by destroying the independence and competence of the institutions over which they had acquired control in the process of converting them into instruments of domination.
Here, too, beyond a lingering and misplaced respect for institutional authority, the plausibility-effect produced by endless, mantra-like repetition, and the production of irrelevant distractions, the official story remains unpersuasive.
In the days which followed 9/11 questions were already being asked about the relationship between the official story, the actual pattern of the evidence and a series of imponderables, and they have continued to be asked.
Read More – 9/11: Twenty years of lies.
Original Article: https://davidicke.com/2021/09/12/9-11-twenty-years-of-lies/
---
About this entry
You're currently reading "9/11: Twenty years of lies," an entry on Truth11.com
Published:

September 12, 2021 / 3:01 pm
Category:
Tags: