Latest UKHSA Report proves this is a 'Pandemic of the Fully Fake Vaccinated' and the data sh ows the Fake Vaccinated are TWICE as likely to die and are about to overwhelm the NHS
Latest UKHSA Report proves this is a 'Pandemic of the Fully Fake Vaccinated' and the data shows the Fake Vaccinated are TWICE as likely to die and are about to overwhelm the NHS
David Icke / Richard Willet – Memes and headline comments by David Icke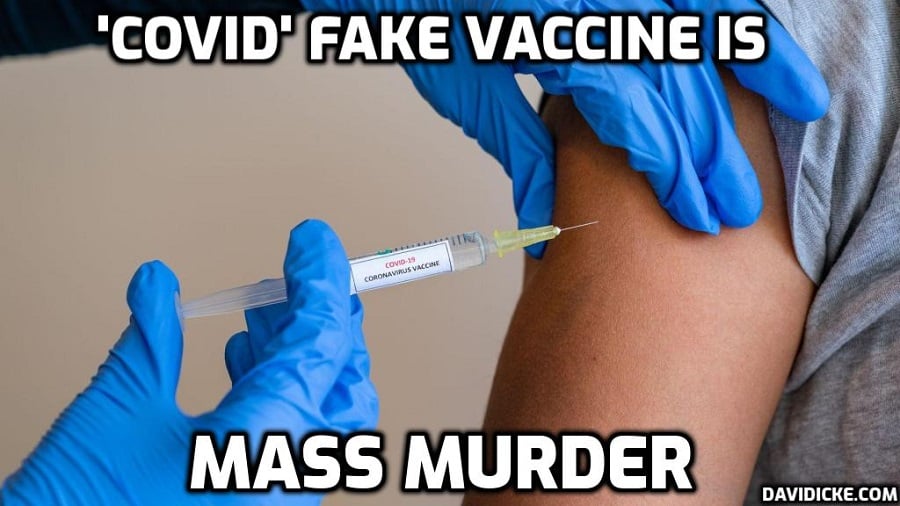 The UK Health Security Agency has published its latest Covid-19 Vaccine Surveillance report and yet again it has revealed that the majority of Covid-19 cases, hospitalisations, and deaths were among the fully vaccinated population over the past month.
But a more detailed look at three months worth of Covid-19 data published by the agency has revealed that current projections show the fully vaccinated are in for a very rough winter, infections rates are much higher among the fully vaccinated, and the hospitalisation-fatality rate among the vaccinated is 124% higher than the fatality rate among the unvaccinated population.
The latest Vaccine Surveillance report from the UK Health Security Agency was published Thursday November 18th and covers data on infections, hospitalisations and deaths from Week 42 to Week 45 of 2021 (October 18th – November 14th).
The report reveals that there were 850,438 recorded Covid-19 cases, 9,760 Covid-19 hospitalisations and 3,650 Covid-19 deaths from October 18th to November 14th. Of these the unvaccinated accounted for 40% of all cases, 33% of all hospitalisations, and 18% of all deaths. Whilst the vaccinated accounted for 60% of all cases, 67% of all hospitalisations, and 82% of all deaths.
Read More: Latest UKHSA Report proves this is a 'Pandemic of the Fully Vaccinated'

Original Article: https://davidicke.com/2021/11/20/latest-ukhsa-report-proves-this-is-a-pandemic-of-the-fully-fake-vaccinated-and-the-data-shows-the-fake-vaccinated-are-twice-as-likely-to-die-and-are-about-to-overwhelm-the-nhs/
Become a Truth11.com Patron
$1 Per Month or make a Donation
Dylan Eleven | Truth11.com
• War has been declared by our governments against the people.
• They are illegally going against our constitutions and international law.
• Human rights violations are personal liability. Meaning every police officer or judge or anyone violating your rights is personally liable and face life in prison for their actions.
• Following orders or local laws is not a valid defence.
• Governments are committing genocide with the deadly vaccines.
• Mainstream media is complicit in this genocide.
• 2020 had no excess deaths as there was no virus and no pandemic.
• 2021 excess deaths are already up 30% due to the vaccine adverse reactions.
• They will try to hide the vaccine deaths by blaming a new variant or virus or biological attack.
• They will try to force vaccinate everyone.
• Organize, stock up, share the truth and prepare for war.
• Independent media is fighting in this war to arm you with the truth and to help unite us all. Please help support Independent media.
---
About this entry
You're currently reading "Latest UKHSA Report proves this is a 'Pandemic of the Fully Fake Vaccinated' and the data sh ows the Fake Vaccinated are TWICE as likely to die and are about to overwhelm the NHS," an entry on Truth11.com
Published:

November 20, 2021 / 7:07 pm
Category:
Tags: