Humanity versus inhumanity, good versus evil
Humanity versus inhumanity, good versus evil
Tap News / Weaver
A BRILLIANT BRIEFING FROM REINER FULLMICH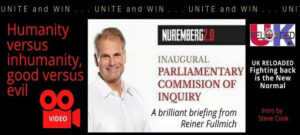 Intro by Steve Cook
I highly highly recommend this briefing by top German lawyer, Reiner Fullmich to Polish politicians.
It lays out the whole Covid scam, all the lies and falsehoods, cons, tricks and deceits, plus all the legal and human rights implications very concisely and clearly.
It also clearly describes the serious health effects of the so-called vaccines and the damage to the immune system they cause.
It is quite long(ish) but well worth taking the time to listen to it whatever your current opinion of Covid or the "vaccines".
Reiner Fuellmich is brilliant at explaining things clearly to and for the benefit of the layman.
By the time you have finished listening to his briefing, you will understand what has been going on, including the agenda behind these crimes against humanity.
After Dr Fuellmich has spoken so forcefully various other experts on his team have some very informative things to say.
We all need to get behind Dr Fuellmich's crusade.
For blood!
POLAND HOUSE OF REPRESENTATIVES' INVESTIGATION COMMITTEE: INAUGURATION WITH DR REINER FUELLMICH
WATCH THE VIDEO ON BITCHUTE https://www.bitchute.com/video/PUvdD5soYire/
WATCH THE VIDEO HERE
EMBED THE VIDEO
<iframe width="640″ height="360″ scrolling="no" frameborder="0″ style="border: none;" src="https://www.bitchute.
Original Article: https://tapnewswire.com/2021/12/humanity-versus-inhumanity-good-versus-evil/
Supporting The Truth Movement Independent Media and Journalists
Dylan Eleven | Truth11.com
By supporting independent media news sites like Truth11.com or any other journalist or site you find a great source of truth; you are helping the truth movement pay for an infrastructure that can continue to operate and grow and fight in this war. Thank you for supporting independent media.
Become a Truth11.com Patron
$1 Per Month or make a Donation
Independent media is fighting in this war to arm you with the truth and to help unite us all.
---
About this entry
You're currently reading "Humanity versus inhumanity, good versus evil," an entry on Truth11.com
Published:

December 3, 2021 / 1:10 pm
Category:
Tags: