Another 75 fake cases of fake Moronic variant not found in England but claimed to be: UK total doubles (it d oesn't) as health chiefs reveal the majority of (un)sequenced made-up super-variant infections are i n fully fake vaccinated people so they can get more deadly jabs into them
Another 75 fake cases of fake Moronic variant not found in England but claimed to be: UK total doubles (it doesn't) as health chiefs reveal the majority of (un)sequenced made-up super-variant infections are in fully fake vaccinated people so they can get more shite jabs into them
David Icke / Richard Willet – Memes and headline comments by David Icke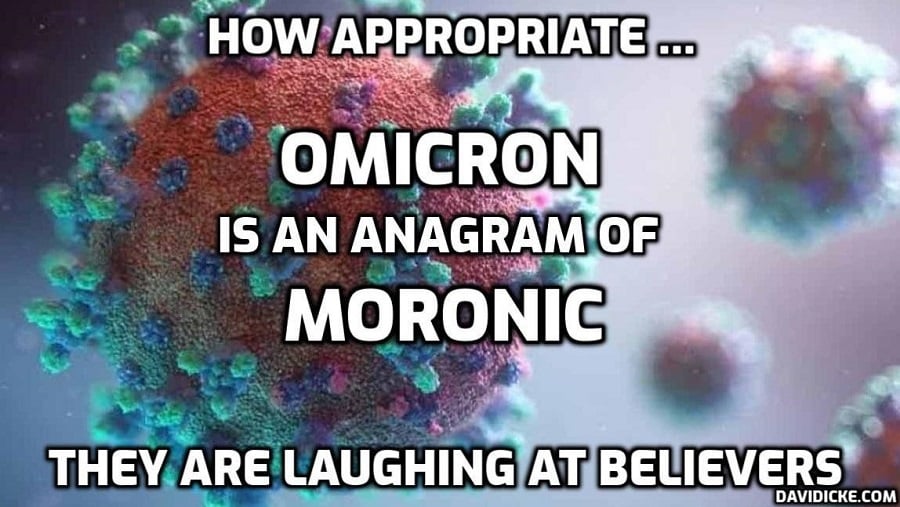 Another 75 cases of the super-mutant Omicron variant have been identified in England, health officials confirmed, after it was revealed that the majority of sequenced infections of the new variant are in fully vaccinated people.
It comes after health officials revealed earlier today that more than half of England's Omicron Covid cases that have been genetically sequenced were in double-vaccinated people. It is not yet known whether today's additional 75 cases were in double-jabbed or non-vaccinated individuals.
And Boris Johnson insisted last night that he wanted Britons to enjoy Christmas as 'normally as possible' – just as Ireland was told it was going into semi-lockdown.
Following a week of mixed messaging from his ministers, the Prime Minister admitted there had been 'quite a lot of to-ing and fro-ing' on Christmas parties.
But he said it was 'not right' that people should consider cancelling seasonal events – saying that the 'tough measures' his Government has taken at the borders should see the country through without the need for further curbs.
It came as Ireland closed nightclubs, imposed restrictions on bars and restaurants and placed curbs on household mixing to slow the spread of the Omicron variant.
Last night it was claimed that the UK's travel red list could be expanded this weekend with arrivals from Nigeria facing the prospect of hotel quarantine.
Read More: Another 75 cases of Omicron Covid are found in England: UK total doubles as health chiefs reveal the majority of sequenced super-variant infections are in fully vaccinated people

Original Article: https://davidicke.com/2021/12/04/another-75-fake-cases-of-fake-moronic-variant-not-found-in-england-but-claimed-to-be-uk-total-doubles-it-doesnt-as-health-chiefs-reveal-the-majority-of-unsequenced-made-up-super-variant-infecti/
Supporting The Truth Movement Independent Media and Journalists
Dylan Eleven | Truth11.com
By supporting independent media news sites like Truth11.com or any other journalist or site you find a great source of truth; you are helping the truth movement pay for an infrastructure that can continue to operate and grow and fight in this war. Thank you for supporting independent media.
Become a Truth11.com Patron
$1 Per Month or make a Donation
Independent media is fighting in this war to arm you with the truth and to help unite us all.
---
About this entry
You're currently reading "Another 75 fake cases of fake Moronic variant not found in England but claimed to be: UK total doubles (it d oesn't) as health chiefs reveal the majority of (un)sequenced made-up super-variant infections are i n fully fake vaccinated people so they can get more deadly jabs into them," an entry on Truth11.com
Published:

December 4, 2021 / 4:38 pm
Category:
Tags: